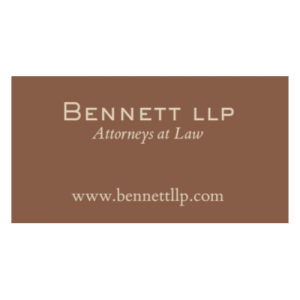 Contact: Brandon Bennett
Phone: (512) 965-7546
E-Mail: brandon@bennettllp.com
Website: www.bennettllp.com
Professional services:
We assist individuals, families, organizations, and businesses structure their activities and land ownership to protect their assets, facilitate inter-generational transitions, implement effective governance practices, and tailor equity ownership arrangements.
Practice area highlights:
• Entity selection and formation for individual and family-owned businesses and farm and ranch and properties
• Asset protection structuring, including in connection with farm and ranch properties
• Limitation of liability structuring and practices, including land-use arrangements and lease agreements
• LLC Company Agreements and Partnership Agreements
• Inter-generational transitions of family businesses and farm and ranch properties
• Entity and organization governance arrangements and practices
Credentials:
Brandon is a partner in BENNETT LLP, a law firm based in Bastrop, Texas with a practice emphasis on structuring matters. Prior to founding BENNETT LLP in 2006, Brandon was Counsel at the international law firm, Akin Gump Strauss Hauer & Feld LLP, where he practiced in Austin and Houston, Texas; Moscow, Russia; and London, England.
Brandon earned his J.D. with High Honors in 1999 from The University of Texas School of Law, where he was a member of the Order of the Coif.
Prior to law school, Brandon worked for the U.S. National Park Service in the Grand Canyon National Park, Arizona and the U.S. Fish and Wildlife Service in the Klamath National Forest, California.
Brandon and his family own and operate ranch properties in Texas focused on restoration of native pastures, wildlife and habitat conservation, and the preservation of the American Bashkir Curly Horse, a rare breed of horse discovered among the wild Mustang herds of the West.