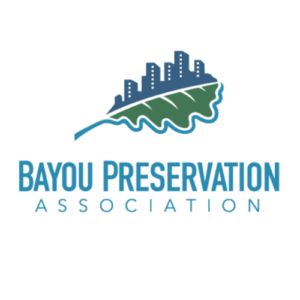 Contact: Branwen Ranck
Phone: 713-529-6443
Email: info@bayoupreservation.org
Website: www.bayoupreservation.org
Our mission is to celebrate, protect and restore the natural richness of all our bayous and streams.
Our vision is a network of healthy bayous, streams and watersheds.
Our values include science-based policies and actions, collaboration, and community.
At Bayou Preservation Association, we are dedicated to developing collaborative projects and enhancing public awareness about the region's streams and bayous in order to advance watershed management, conservation, and recreation along these invaluable natural resources. We are unique in that we support all of the area bayous and waterways while also working together with groups that concentrate on a specific bayou and its watershed. From service projects such as tree plantings and clean-ups to educational seminars and festivals and behind-the-scenes advocacy, we promote the health of all waterways within the region. Since 1966, we've worked with hundreds of thousands of your neighbors to conserve, protect and restore our natural environment.
The Bayou Preservation Association focuses on four key programs to accomplish its mission to "celebrate, protect and restore the natural richness of all our bayous and streams." Cross-cutting projects and initiatives – those that address the goals of more than one program – also continue, such as the annual Symposium, public policy review and response, and communications tools.
Bayou Citizen Science Program
Bayou Appreciation Program
Stream Corridor Restoration Program
Trash-Free Bayous Program
Our Goals are to increase the understanding of bayous and creeks and their watersheds, to increase stewardship and stewardship opportunities to improve the health of our watersheds and bayous, and to lead on bayou and watershed issues.
Click on our website link above to learn more about our programs and partnerships!