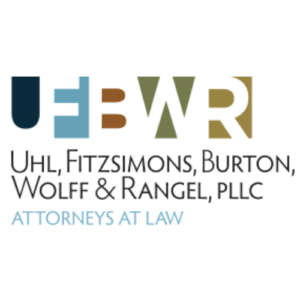 Contact: Joseph Fitzsimons or Parks Brown
Phone: 210.829.1660
E-Mail:jfitzsimons@uhlfitzsimons.com or pbrown@uhlfitzsimons.com
Website:www.uhlfitzsimons.com
Professional Services:
The attorneys at Uhl, Fitzsimons, Burton, Wolff & Rangel, PLLC, bring to their practices a unique combination of deep ties to San Antonio, South Texas and West Texas, together with experience statewide and outside of Texas, to provide a well-rounded and comprehensive team of advisors.
Areas of Expertise:
Oil, Gas and Mineral Law
Commercial Real Estate
Farm & Ranch Law
Conservation Easements
Water & Wind Law
Uranium Mining
With twenty lawyers, Uhl Fitzsimons offers its clients the individual attention of a small firm, with the ability to handle complex transactions. More information on each attorney can be found on our website.
We have served as lead counsel, co-counsel, local counsel, and as a referral for clients seeking representation from Laredo to Corpus Christi to the Rio Grande Valley and all points in between. We have obtained substantial verdicts and settlements in South Texas and have also successfully defended some of the state's largest land and mineral owners. In addition, our attorneys quite frequently serve as local counsel to out of state attorneys in real estate and commercial transactions involving Texas law.
Credentials:
Please visit our website for a full listing of our attorneys, their current areas of practice and expertise, clients, educational background and professional associations.