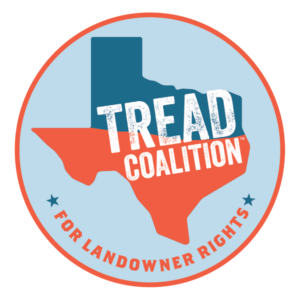 Contact: Jessica Karlsruher
Phone: 737-234-6259
Email: jessica@treadcoalition.org
Website: www.treadcoalition.org
The Texas Real Estate Advocacy & Defense Coalition (TREAD) is a bipartisan, member-based advocacy association that advocates for and defends Texas landowner rights at the federal, state, and local levels. We monitor relevant issues in the Texas Legislature, such as property taxes, water rights, and eminent domain. We also partner with professionals and organizations who advocate for sound public policy and maintain a commitment to protecting private property rights, landowners, and the rural communities they live in.
Some of our Programs include:
Educational Workshops
The TREAD Coalition organizes educational workshops across the state to educate property owners and real estate professionals on issues affecting their land, communities, and pocketbook. The purpose of these workshops is to bring together people in communities affected by legislation, development, or other property-related matters that fall in TREAD's purview. For example, we organized more than 40 workshops in Central Texas centered around a pipeline that was being built through the hill country, impacting natural habitats and private properties during its construction. These workshops have been crucial to building our membership base, spreading awareness, and sharing the tools necessary for landowners to advocate on their own behalf.
TREAD Talks
TREAD Talks provides information and insight on rural issues by inviting seasoned experts and thought leaders to participate in a panel discussion and provide an overview of the history and background of a specific topic in Texas and discuss ways that landowners can work together with industry to find solutions while being partners in that process. Additionally, panelists speak about the role their individual organizations have in supporting rural landowners and their approach to tackling critical issues that rural communities face. These talks are streamed on Facebook live, and they are archived on our YouTube page as well as through our membership portal as a benefit of support.
Click on our website link above to learn more about our programs and partnerships!
more info